Home Florist Roses™ Grow your own veg? Why not grow your own bouquet
Perfect for creating easy and informal flower arrangements and table decorations. These fouraward winning Hybrid Tea varieties have been bred and tested for their fragrance and health. Available in both rich and pastel shades they are a wonderful addition to the cutting garden or work equally well in a mixed border alternatively if space is limited a large patio pot.


Timeless® Pink, Charisma, Cream and Purple make up the range. Extremely winter hardy and naturally disease resistant, they quickly repeat flowering, providing continuous colour throughout the summer until first hard frosts.


For best results cut as soon as a bud shows colour and the outer sepals start to unfurl, trim at the desired stem length, just above a leaf. Remove all the leaves apart from top one or two, stand the stems in fresh water.


Varieties in the range:


Timeless™ Charisma (Noa16071)– rich pink, height & spread 80cm
Timeless™ Cream (Noa1112130) – cream to light salmon, height 95cm, spread 80cm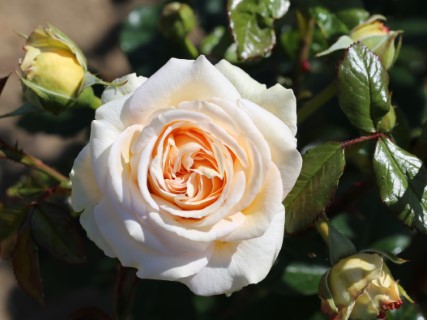 Timeless™ Pink (Noa1811108)– light pink with an apricot centre, height 80cm, spread 70cm


Timeless™ Purple (Noa38121) – purple to violet pink, height 80cm, spread 70cm


Pot size 4Lt


Available from all good garden centres.

For more information and images contact Jo Davey, jo.davey@whartons.co.uk whartons.co.uk
Follow us on Instagram whartons_garden_roses